Most educational activity
Estonian Dental Association
In October 2019, the Estonian Dental Association (EHL) released Suukool's Toothbrushing song, created by Estonian superstar, Eurovision singer and songwriter Stig Rästa. In six months, the song got more than one million views on YouTube.
Suukool brand
"Suukool" means "mouth school" in Estonian. The brand helps to gain a better foothold among different age groups and to make caries prevention simple and fun. Oral health education, prevention and promotion projects for children and grown-ups is led by EHL and is funded by the Estonian Health Insurance Fund (a government entity).
A success story
Due to raving reviews, children's toothbrushing success stories, and to celebrate World Oral Health Day 2020, EHL released new versions of the Toothbrushing song in English and in Russian.
To promote this song and other activities, EHL did a social media campaign and organized media events on different TV channels, radio stations and in newspapers.
Best media campaign
Hellenic Dental Association
The Hellenic Dental Association's (EOO) World Oral Health Day initiatives were featured in various online, print, radio and TV media, despite the fact that many of the planned activities had to be cancelled, postponed, or rescheduled due to the COVID-19 pandemic.
From traditional media...
EOO's President Mr. Athanasios Devliotis was interviewed and featured in the dental magazine "ΟΔΟΝΤΙΑΤΡΙΚΟ ΒΗΜΑ."
A press conference took place in Aegli, Zappeion Mansion, Athens, on March 12, 2020. It was live streamed and a limited number of journalists could attend it in person due to the COVID-19 safety measures.
A model press release was available on EOO's website. An estimated five press releases were distributed by regional dental societies to reach out to local media.
...to creative media
In addition, EOO adapted the WOHD20 global campaign video in Greek (see video above) and placed the WOHD poster on the platform "infokids.gr."
Last but not least, EOO projected the WOHD logo (3D projection mapping) on the Hellenic Parliament building. A good sign for better inclusion of oral health into national health policies? We hope so.
Best pledge collection
Philippine Dental Association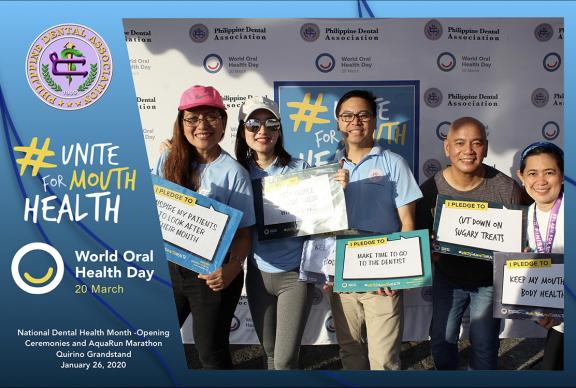 The 2020 campaign aimed to use the transformative power of pledges to educate people on how to take care of their oral health and empower them to create positive and lasting change. The Philippine Dental Association (PDA) successfully collected an estimated 2,000 pledges.
Photo booths at events
They organized photo booths during several of their key events, such as the PDA House of Delegates session (November 15, 2019), the PDA Mega Luzon Convention (November 25 - 27, 2019), the AquaRun Marathon and Opening of National Dental Health Month (January 18, 2020), as well as the Philippine Dental Student's Association Convention (January 18, 2020).
Photo booths had an immensely positive impact on young and old folks alike. The booths encouraged people to participate and make a pledge for better oral health and general health practices. The photos also motivated the participants to post the photos on their social media pages, thus increasing the social media reach of the WOHD campaign.
Local celebrities
In addition, the Philippine Dental Students Association collected pledges from professional basketball player Paul Lee and actor Adrian Alandy. Involving local celebrity ambassadors is an excellent way to raise the visibility of World Oral Health Day.
Best branded photo
Stomatology Center of Shenzhen Hospital
In China, the Stomatology Center of Shenzhen Hospital, Southern Medical University adapted the WOHD20 poster and displayed it with oral health activity information on several LED display screens of Shenzhen Hospital, Southern Medical University on 20 March.
Educate and raise awareness
The Center also distributed free oral health educational manuals and World Oral Health Day leaflets to the public to popularize the importance of oral health.
In total, close to 500 members of the public and primary school students came to the hospital that day. The objective was to raise awareness and encourage them to participate in the fun oral health activities. The same information was also published on the Center's official social media account (WeChat).
Partnering for oral health
The hospital partnered with FDI member the Chinese Stomatological Association (CSA) and several primary schools.
Most original activity
National Medical Students' State (HCCM)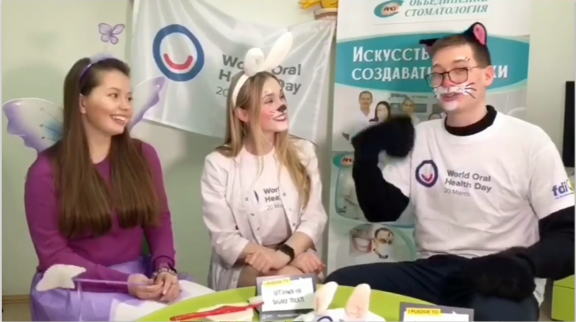 The National Medical Students' State (HCCM) in Russia, through their local member the Ural State Medical University, organized an event for children called "School of Healthy Habits" ("Школа здоровья") at a clinic where dental students often have practical classes.
Dentists aren't scary
They taught kids how to brush their teeth, displayed cartoons with dental stories and made a dental office tour. During the tour, the students shared anecdotes about the dental profession with the children anecdotes and showed them that dentists aren't scary at all. The activities ended with an educational quiz with prizes for the winners.
Video lessons
HCCM also released two video lessons for kids about oral care, with three students dressing up as the tooth fairy, a rabbit, and a cat, respectively.
All of their local member universities shared social media posts about WOHD, made "I pledge to…" posters with the online pledge generator and also using their own template, and used official WOHD materials in various media (mostly posters).
Best social media campaign
Tanzania Dental Students Association
In addition to conducting an outreach activity at Kigamboni Primary School in early February, the Tanzania Dental Students Association (TDSA) ran an oral health awareness campaign on social media during the five days leading up to World Oral Health Day 2020.
Including a wide range of students
With the aim of raising oral health awareness among Tanzanians, TDSA collaborated with several other student associations, including the Tanzania Medical Students Association, the Tanzania Pharmacy Students Association, the Tanzania Nursing Students Association and Muhimbili University of Health and Allied Sciences.
TDSA also included non-medical students, such as those from the Tanzania Dental Association Rotary Club of Young Professionals and the Tanzania Environmental Students Association.
300 posters
TDSA's social media campaign posted posters with oral health messages on Instagram, WhatsApp, Facebook and Twitter. Messages were written in both English and Swahili. TDSA produced close to 300 individual posters with different oral health messages meant to apply to a broad and diverse audience.