Campaign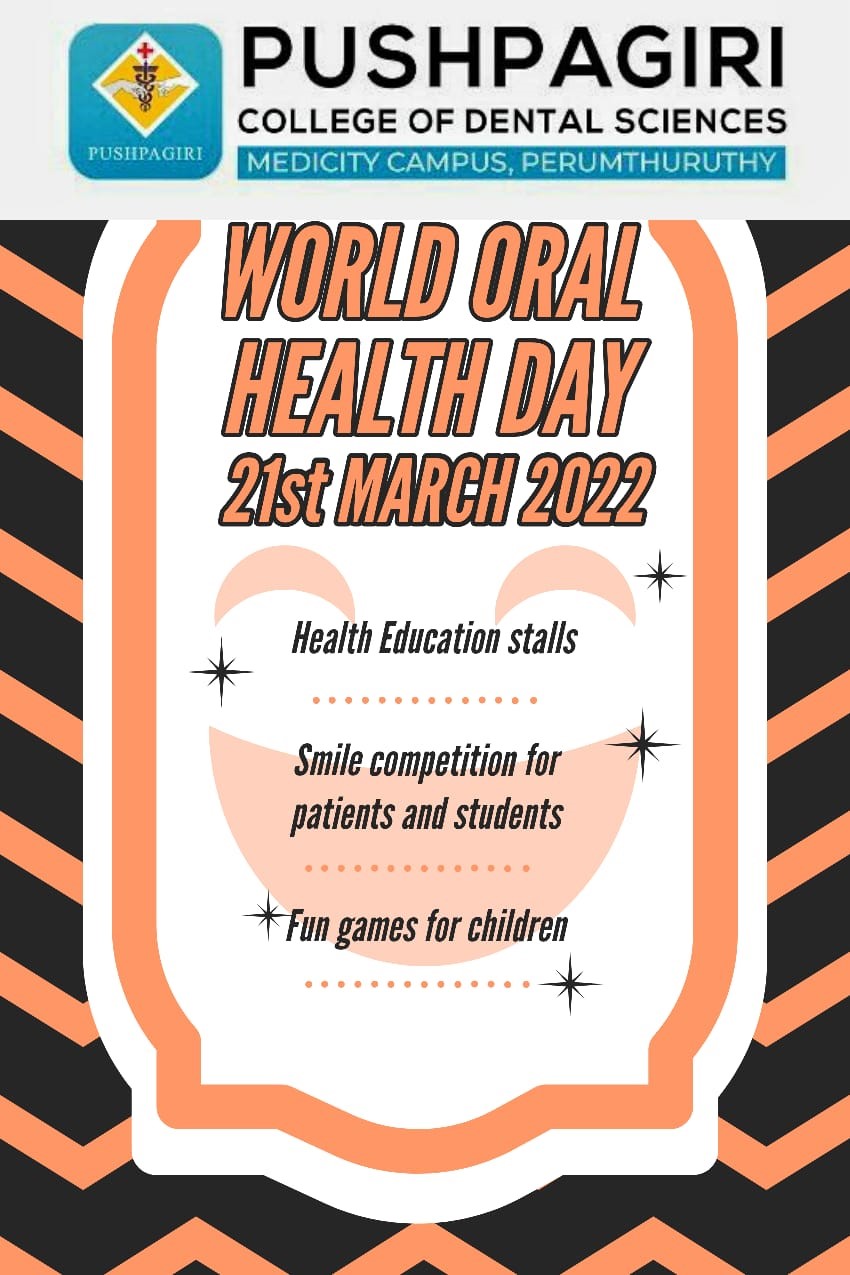 Pushpagiri College of Dental Sciences, Thiruvalla, Kerala celebrated World Oral Health day on 21st march 2022. The department of Public Health Dentistry coordinated the programmes. Various programmes were organised for the creating awareness among patients. The departments of Oral medicine and Radiology, Pedodontics, Orthodontics, Conservative Dentistry and Endodontics, Prosthodontics and crown and Bridge and Public Health Dentistry jointly collaborated in the programmes. Dr Benley George, Associate Professor and HOD and Dr Rino Roopak Soman, Reader Dept of Public Health Dentistry were the chief co-ordinators of the programme.
Health Education programme- Health education stalls were organised in the college courtyard by various departments. Health education materials like Posters, Brochures, flipcharts and models were displayed and used for education of patients. The stalls were conducted by the Department of Oral Medicine, Orthodontics, Pedodontics, Conservative Dentistry, Prosthodontics and Public Health Dentistry. Post graduate students, Interns and faculty were a part of the oral health education team. Patients were provided awareness on various treatments like Root canal treatment, Restorations, post and core, Bleaching, Fixed partial dentures, removable partial dentures, dental implants, fixed orthodontic treatment, functional appliances, pit and fissure sealants, importance of fluoride, x rays etc. Video demonstration of certain treatments were demonstrated to the patients.
Smile contest- A smile contest based on the theme "Be proud of your mouth" was conducted separately for patients and students. Photographs of patients and students were taken at the selphie point. The winners in both the categories were awarded first prize, second prize and third prize gift hampers.
Fun games- Fun games were conducted by the department of Pedodontics for kids. The winners were presented with gifts.
The programmes concluded by 3pm.
Information
dentalcollege@pushpagiri.in
Medicity
Perumthuruthy 689107
Kerala
India
Thiruvalla