Campaign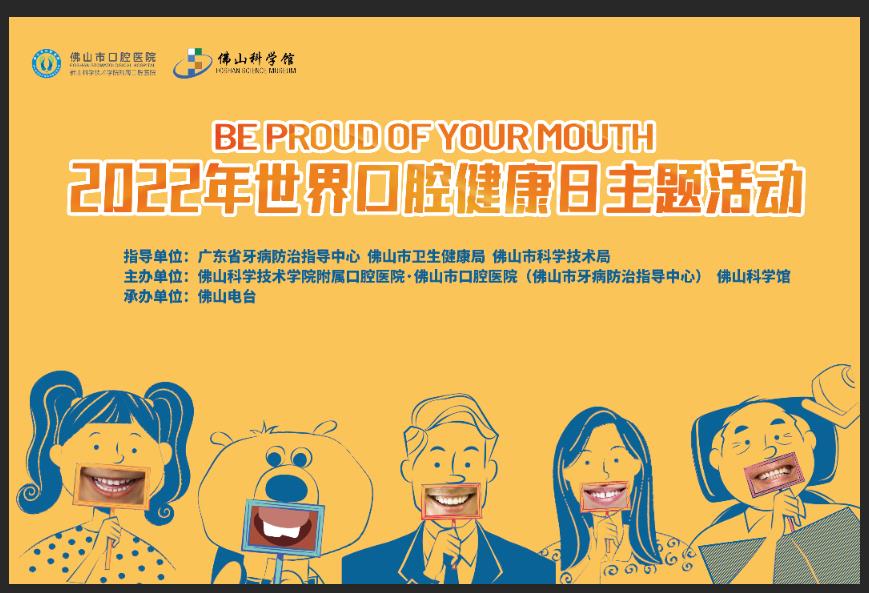 1.     Background
World Oral Health Day (WOHD) is celebrated each year on 20 March. Foshan Stomatology Hospital and Foshan Science Museum will co-host a campaign to mark WOHD on 19-27 March within the framework of the Chinese Stomatological Association.
2.     Theme and time
Theme: BE PROUD OF YOUR MOUTH
Slogan: Look after your oral health for your happiness and well-being
Date: 19-27 March, 2022   
Time for launching ceremony: 10:00-12:00 a.m., March 19, 2022
3. Content
(1)Oral health care awareness
Brochures and posters. Online and offline sharing and education session. The content focuses on 9 sections including children's oral health care, general health, and oral hygiene.
(2)Oral Health Games
Oral Health Q&A Robot, Tooth Fun Catcher, Oral Health Knowledge Board Game, Tooth Protection Flying Chess to empower the youth with knowledge to secure good oral health.
(3)BE PROUD OF YOUR MOUTH theme poster creation and sharing
Personalized cartoon posters designed for oral professionals and on-site citizens. Citizens will be encouraged to conduct propaganda of oral health knowledge through WeChat and other social media by collecting "likes" for oral health care giveaways.
(4)Launching ceremony of 2022 WOHD campaign
 = 1 \* GB3 ①Time: 10:00-12:00 a.m., 19 March, 2022
 = 2 \* GB3 ②Venue:Lobby at Foshan Science Museum
 = 3 \* GB3 ③Attendee:
Leaders of Guangdong Oral Health Center, Foshan Health Bureau and Foshan Science and Technology Bureau; relevant staff of dental prevention and treatment popular science work in Guangdong province; medical staff of Foshan Stomatology Hospital, and 50 Foshan citizens. The M.C. is Dudu with Foshan radio.
4.     Project units
Guidance:
Guangdong Oral Health Center
Foshan Health Bureau
Foshan Science and Technology Bureau
Organizers:
Foshan Stomatology Hospital, School of Medicine, Foshan University
Foshan Science Museum
Undertaker:
Radio Foshan
5.     Onsite layout
7 sections including stage, VIP seats, audience area, Photo Corner, health knowledge area (tooth brush learning, flossing learning, and oral health check-ups), games area (Tooth Fun Catcher, Kid Dentist, etc.) and gift distribution area.
6. Flow of launching ceremony
Content
9:45-10:00
Music, ice breaking games, Photo Corner
10:00-10:05
Introduction of activities and distinguished leaders in attendance
10:05-10:08
Speech by HUANG Dahong, Director of Foshan Stomatology Hospital
10:08-10:11
Launching ceremony of WOHD campaign
10:11-10:15
Medical staff performing small chorus TOOTH BRUSHING
10:15-10:25
Stomatologists give instruction in oral health such as tooth brushing and flossing
10:25-10:30
Interactive quiz for oral health knowledge
10:30-10:35
SEALANT theme song dance
10:35-10:50
Magic show(with props for oral health promotion)
10:50-11:00
Concluding remarks (M.C.)
11:00-12:00
Function areas for visitors to collect and exchange stickers for gifts
Information
jinglimingcn@qq.com
Foshan Xincheng Rd Huangkang No.3
Foshan Shi
Guangdong Sheng,
China
Foshan Science Museum