Campaign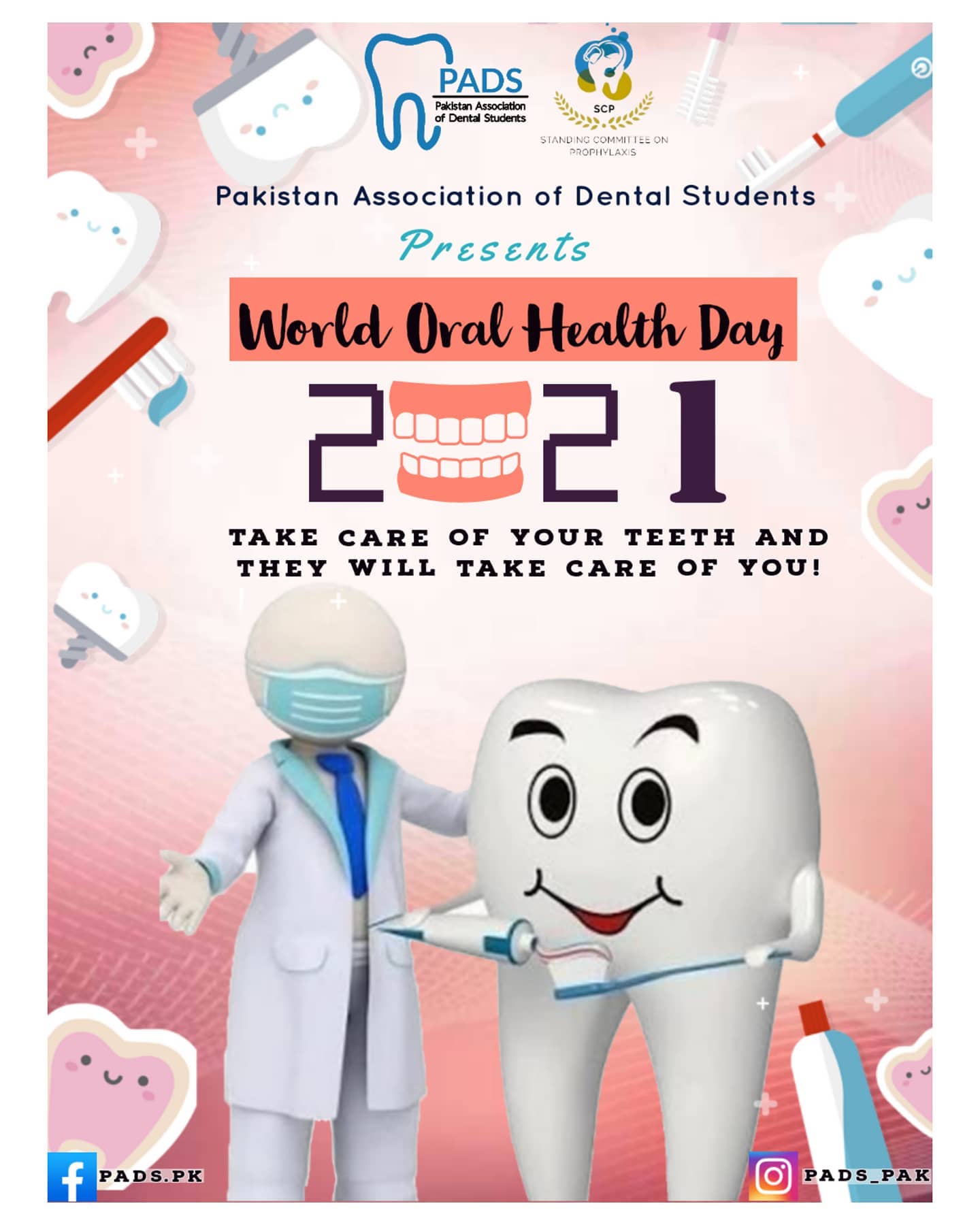 Prophylaxis Committee PADS is conducting a campaign for World Oral Health Day 2021. Activities included in the campaign are;
1- An awareness session targeting children under 16 in a local school (The Spirit School Aisha Campus) on importance of oral health from an early age. After approval from School administration a team of volunteers from PADS visited school and through various fun activities, presentations and games, students were educated to take care of their oral health and guided about the link between healthy mouth and healthy body. Activities were also designed in a way to motivate students to eat healthy and avoid foods that harm oral health or overall wellbeing. Here we have a sneak peak into the activity : 
https://www.instagram.com/tv/CMctszpJS2p/?igshid=13zfr5npaq93v
 2- Gathering Message from Teachers all around Pakistan, for this we are approaching our teachers to collect the message they want to give on the occasion of World Oral Health Day 2021. link of one such post is given below. its an ongoing activity so we'll keep on sharing more also on our official pages.
https://www.instagram.com/p/CMnUDb5pXn1/?igshid=1tmjirlo489zb
3- Creative Posters for WOHD various informative posters are being shared and some are on their way :)
https://www.instagram.com/p/CMkcveOpi5t/?igshid=v26ik75283bm
https://www.instagram.com/p/CMoR7pYJCTZ/?igshid=1jnqypmy1a375
4- Dental Camp in collaboration with Patient Welfare Society (PWS) CMH, Shield, Dental News was organized at Institute of Dentistry CMH Lahore Medical College. 
https://www.instagram.com/p/CMj-V1cJszx/?igshid=1cyryz1gjhzxv
5- Interview from strangers asking what they like and don't like about their smiles. Videos in the process of editing, will be shared soon on official page i.e;
Instagram: Pads_pak
Facebook: Pads.pk
6-  WOHD WEBINARS proposed dates for webinars are 22nd March 2021 and 23 March 2021. All the details will be shared on our official page.
7- A holistic guide to maintain good oral health in process by Prophylaxis Committee PADS.
8- PR packages in collaboration with Colgate to different dentistry related influencers and celebrities.
9- An exciting online challenge around a particular oral health related theme to motivate people to take care of their mouth.
10- Articles in Magazines and Newspapers.
Kindly See our story highlights too for details of our activities: https://www.instagram.com/s/aGlnaGxpZ2h0OjE4MTk4OTIyNDgzMDE5Mzk2?igshid…
Also all activity records will be updated in the given drive link:  https://drive.google.com/drive/folders/1-7LclIQZgAac1dCe-UTN5C5n6FS8aRv…
Information
padspakistan@gmail.com
CMH Lahore Medical College, Abdul Rehman Rd, Sarwar Colony, Lahore, Punjab (Headquarters PADS)
Lahore-54000
Pakistan
Lahore