Talks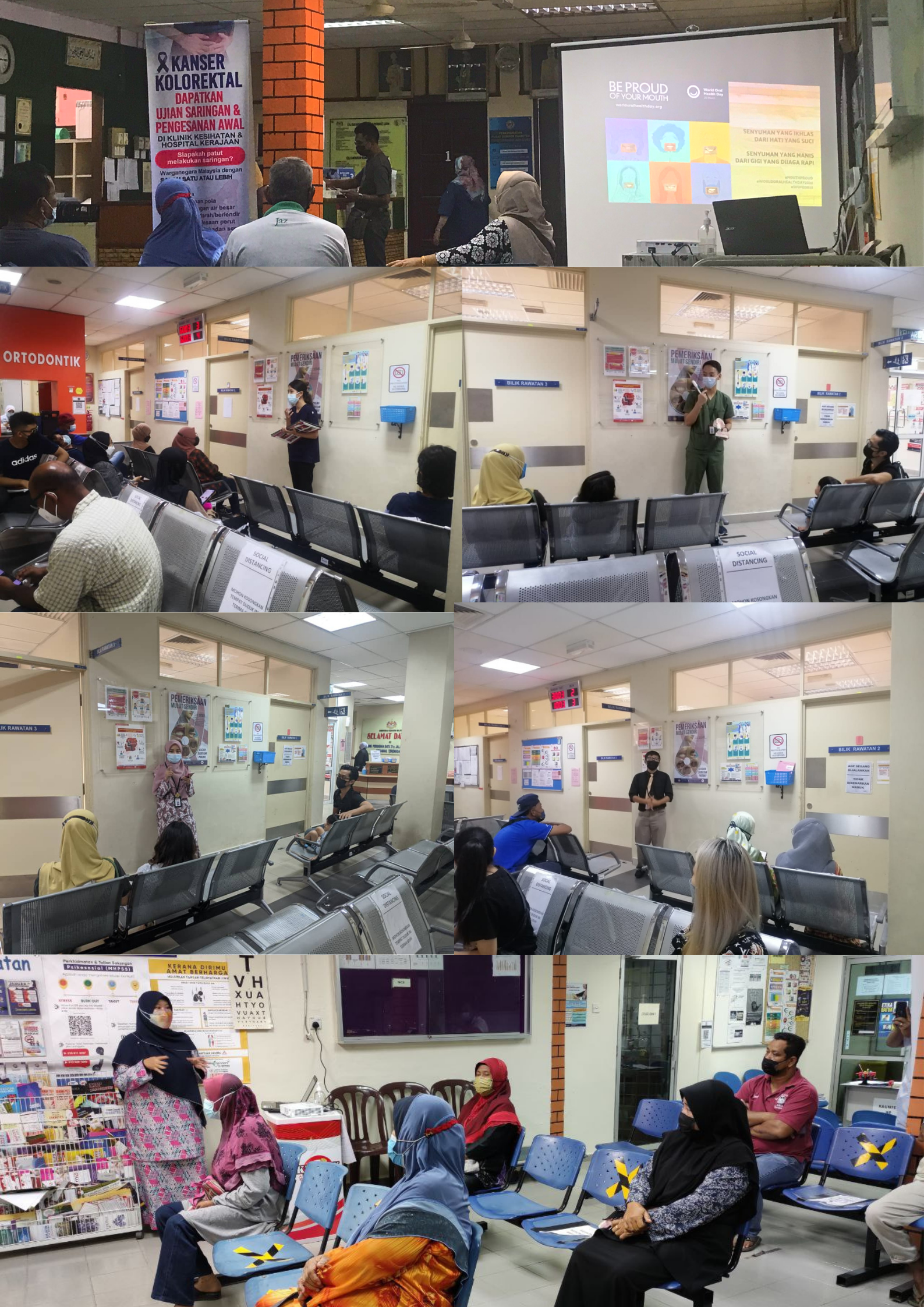 Oral Health Talks were delivered to patients in the public area of Klinik Kesihatan Seri Bandi and Klinik Pergigian Batu 2 1/2, located in Kemaman District, Terengganu, Malaysia on March 21st and 24th where as a slide show with the same theme was put on display from March 20th until March 24th.
Various topics were covered in these 2 clinics related to our World Oral Health Day 2022 theme, "Be Proud of Your Mouth". 
On March 21st, 2022, a talk with title "Kaitan Kesihatan Pergigian dan Kesihatan Badan" or Relationship between Oral Health and Body Health was given to a group of Non Communicable Disease patients of Klinik Kesihatan Seri Bandi by Dr Wan Nur Aiman, Dental Officer of Klinik Pergigian Seri Bandi. The audience included old-aged patients, their care takers and also some middle-aged patients who had their appointment for their regular health check up.
On March 24th, 2022, several talks was given in 2 sessions, morning and afternoon sessions, in the public area of Klinik Pergigian Batu 2 1/2 to the patients who were patiently waiting for their turn for dental treatments by dental officers from the clinic. The details of the talk as below:
Morning sessions
Title of first topic: "Kesihatan Gusi" or Gum Health by Dr Kok Soo Hoay
Title of second topic: Oral Hygiene Care Routine by Dr Nurul Atisha
Afternoon sessions
Title of first topic: Toothbrushing Techniques by Dr Peter Tan Shern Wei
Title of second topic: "Pencegahan Kanser Mulut" or Oral Cancer Prevention by Dr Mohamad Syazwan
Information
aimantiniforever@gmail.com
Daerah Kemaman
24000 Kemaman
Terengganu
Malaysia
Klinik Pergigian Seri Bandi, Klinik Pergigian Batu 2 1/2