Campaign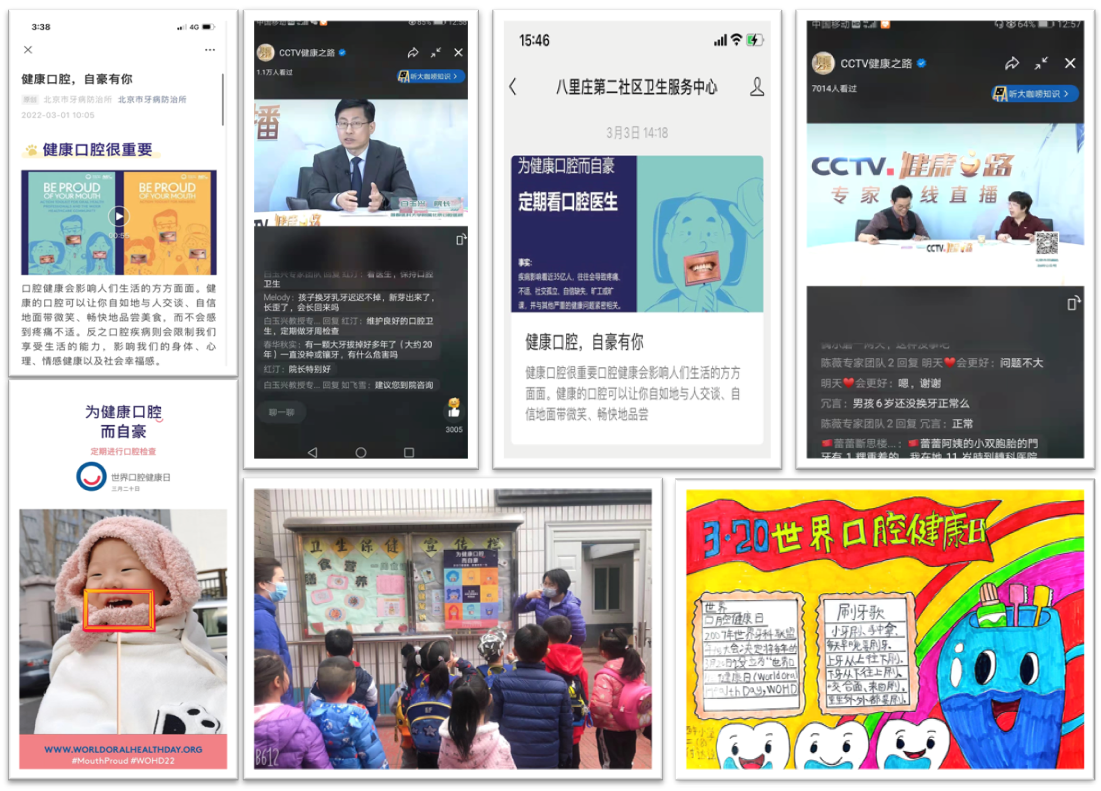 Beijing Stomatological Association and Beijing Institute of Preventive Dentistry jointly launched a program, to learn and share the official information of " World Oral Health Day" and widely disseminate oral health knowledge and concept. The general public was called on to click on the FDI official website to make and share personalized posters, and to show keeping oral health and bright smile.
On the eve of March 20, Yuxing Bai, the Dean of Beijing Institute of Preventive Dentistry , Dean of Beijing Stomatological Association and Dean of Beijing Stomatological Hospital, and Wei Chen, chief physician of the Prevention Department of Beijing Stomatological Hospital, successively carried out two live broadcastings on CCTV health road and other live broadcasting platforms, with more than one million viewers. The official accounts of Beijing Institute of Preventive Dentistry  and Beijing Dental Association issued relative articles of the World Oral Health Day, and the number of readers was over 16 thousand. The dental prevention institutes at district level in Beijing took the lead in participating, and organized the undertaking units of dental public health projects within their jurisdiction to actively carry out disseminate programs, to broaden the relevance and influence of "The World Oral Health Day" on March 20th and remind the public to pay attention to their oral health. There were various forms of programs, including forwarding links of the program, recording popular science videos, making and uploading personalized posters, etc. Under the condition of ensuring the proper implementation of pandemic prevention measures, all districts in Beijing also launched various offline activities, such as popular science lectures and free health clinics, etc.
The program lasted for 20 days. The purpose of the program was to "Be proud of keeping oral health ". Targeted oral health promotion materials have been made for different age groups, covering the whole life cycle between newborns and the elderly people. The member units of the society and the designated institutions of the project actively forwarded the materials of the promotion program to create a good atmosphere of keeping oral health in the whole society. The number of audiences far exceeded that in previous years, reaching more than 2.33 million. All units reported the summary in time and actively made suggestions. The program have enriched the oral health science popularization, introduced new forms and covered a wider range of people. It was a beneficial practice to implement the guidelines and policies of "Healthy China Action" (2019-2030) and "Healthy Oral Action" (2019-2025), and improve the oral health knowledge of the public.
Information
sdyd2314@163.com
No.4 Tiantan Xili, Dongcheng District, Beijing
Dongcheng Qu
Beijing Shi,
China
Beijing